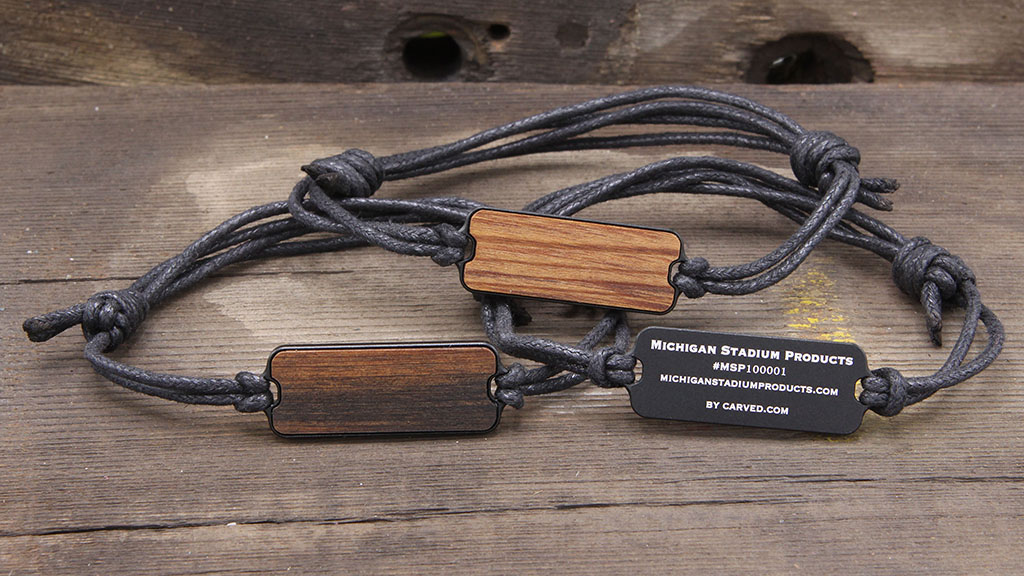 Michigan Stadium Wood Products
Michigan Stadium Bracelet (Single, Family, Team Quantities)
If you wear your loyalty on your sleeve and cuff links aren't your style, the Michigan Stadium Bracelet will be a perfect fit. Take the Big House with you wherever you go and be ready to tell the story of your unique link to the home of Michigan football and its celebrated history.
Handmade for us in the USA by Carved, the bracelet displays a resin-stabilized inlay from Michigan Stadium's original California redwood bench seats, installed prior to the 1927 dedication, set into a 1.25" x 0.5" CNC-machined anodized aluminum housing and bound by a waxed cotton cord with sliding knots to fit any sized wrist.
Take advantage of the quantity discount to outfit your family with a 4-pack or equip your team with 11 bracelets.
The appearance of the natural redwood varies from piece to piece and every bracelet housing is marked with a unique serial number so each is truly one of a kind. Serial numbers will be shipped in random order unless otherwise noted. Family and Team packs will ship with consecutive serial numbers as stock levels permit.